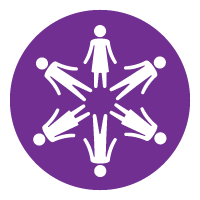 International Women's Development Agency will advance and protect the rights of diverse women and girls. We do this with a clear vision that one day we will achieve gender equality, for all.
WE CONTINUE TO WORK WITH POWERFUL AND INFLUENTIAL PARTNERSHIPS AND COALITIONS THROUGHOUT ASIA PACIFIC AND THE WORLD.
IWDA has become a strong voice in Australia, in the region and throughout the world.
Our research, policy and advocacy has influenced transformative and systemic change for women.
Working with our partners, we have achieved positive change in women's lives including in political and young women's leadership, in supporting women survivors of violence and engaging in peace building and conflict resolution, influencing law reform and social behaviour change to strengthen women's rights and by increasing women's control over economic resources.
Collective action coalitions were led by IWDA
Policy and legislative reform papers were developed by IWDA and partners
Women assumed leadership positions
Women survivors of gender-based violence were provided with support services
Women's Human Rights Defenders were supported
Influencing resources created in research, policy and advocacy space
Women survivors of violence received services such as counselling
Women have increased access to financial services
Women sex workers, garment workers, farmers and community activists were provided with information, training and leadership skills in Cambodia
People worked with us to achieve change in women's leadership, safety and economic empowerment
Women have accessed training and other support services to enable them to participate in governance or decision-making processes at the community and/or sub-national level
A Message from our Chair
This has been another challenging but inspiring year for women across the world.  While women are closing the gap in critical areas such as health and education, the gaps between women and men on economic participation and political empowerment remain wide and progress painfully slow.  At a time when more efforts are needed to accelerate progress, aid funding has been dramatically reduced and the geopolitical landscape has entered a period of rapid change.
IWDA, with our partners and supporters have risen to these challenges and have undertaken some really fantastic work during this year as this report outlines, such as the very successful Myanmar Women Members of Parliament mentoring program linked to our regional Women's Action for Voice and Empowerment Program, the Cambodian Banteay Srei safety and security program and the commencement of the Women's Leadership Pathways Longitudinal Research project.
I would like to thank our outgoing CEO Joanna Hayter for the critical role she has played in making this success possible.  Over the last seven years Jo has led IWDA through a significant phase of growth in its work for the benefit of women and girls in Australia, the region and the world.  Jo leaves IWDA in a very strong position for the future and I thank her for this and for the dedication and passion she has brought to IWDA throughout.  I am also pleased to welcome IWDA's new CEO Bettina Baldeschi. Before being named CEO in November 2017, Bettina held a number of leadership roles across IWDA, in the Individual Deprivation Measure program and Communications and Fundraising portfolios. Bettina has demonstrated a strong love for and commitment to IWDA and its work in advancing and protecting the rights and opportunities of women and girls across the world. We invite you to continue the journey with us on the next exciting chapter of our story.
A big thank you to the amazing IWDA staff and my fellow directors for their dedication and expertise through an extremely busy and formative year, and to our partners, funders and supporters.  It's a privilege and an honour to have the opportunity to work with such a wonderful group of people in advancing gender equality for all.
Kirsten Mander
SUPPORTERS
Total raised by the Australian Community in 2016-17
Total number of supporters
We couldn't have done this without our program partners across the Asia Pacific, and our 50,000+ supporters who believe in achieving global gender equality.
A word from our supporters
We appreciate the hundreds of letters and notes from supporters
who are passionate about women's rights and gender equality.
YABBO
"I have long had a passion and concern for global social justice, and I am not afraid to call myself a Feminist. I have met wonderful IWDA women over the years and believe their work is vital – it is about women supporting women, demonstrating the central role they play in development." – Yabbo
Yabbo is a passionate human right and gender equality activist. And, luckily for us, an incredible supporter of IWDA, she's been organising fundraising events to support our partners for over 25 years.
DEANNE WEIR
''My focus has always been on women and girls and trying to do things that can benefit them. They are the most marginalised people in society. We're just wasting such precious resources by not creating more opportunities for women and girls."
Deanne Weir donates to IWDA and multiple local and international women's organisations every year.

AUSTRALIAN AID
Australian Aid makes up almost a third of IWDA's total income showing Australia's commitment to investment in addressing gender inequality globally.
© 2017. All right reserved.