What do LGBTQI rights look like around Asia Pacific?
May 17, 2017
We often hear about the state of affairs in Western countries when it comes to Lesbian, Gay, Bisexual, Transgender, Queer and Intersex (LGBTQI) rights. But the Asia Pacific region is sometimes invisible in reporting. Today is International Day Against Homophobia, Biphobia and Transphobia (IDAHOBIT or IDAHOT) Day – so we wanted to talk about what's happening in our region, and some of the amazing organisations trying to advance LGBTQI rights.
What is IDAHOT Day?
On this day 27 years ago, the World Health Organisation finally removed homosexuality from the list of mental disorders.
Just think – exactly 28 years ago, being anything other than heterosexual was still seen as a mental illness.
In 2004, May 17th became IDAHOBIT Day, which aims to 'draw the attention of policymakers, opinion leaders, social movements, the public and the media to the violence and discrimination experienced by LGBTI people internationally'.
In the last 27 years, the world as a whole has definitely made some gains in the area of LGBTQI rights. But it's no secret that no country has achieved true equality. Discrimination ranges from street harassment to deadly hate crimes. Suicide rates are disproportionately higher amongst LGBTQI people.
Based on State-Sponsored Homophobia – A World Survey of Sexual Orientation Laws: Criminalisation, Protection and Recognition, the latest report from the International Lesbian, Gay, Bisexual, Trans and Intersex Association, here is the most up-to-date summary of LGBTQI rights across our region.
Asia
Pacific
Summary
As you can see, across our region, only one country has legalised gay marriage, with a further two allowing civil partnerships. Only two nations allow same sex couples to adopt a child together. 18 countries still criminalise at least one form of homosexuality. And most provide few, if any, legal protections against discrimination. In nine countries, LGBTQI people have been arrested in the last three years..
As a nation, a region, and a global community, we need to do better. Everyone deserves to live a life where they can love who they love without fear of imprisonment, discrimination or never having your relationship formally recognised.
Things are still difficult – but there is hope. There are phenomenal people and organisations working for change across our region. Here are just a few:
DIVA for Equality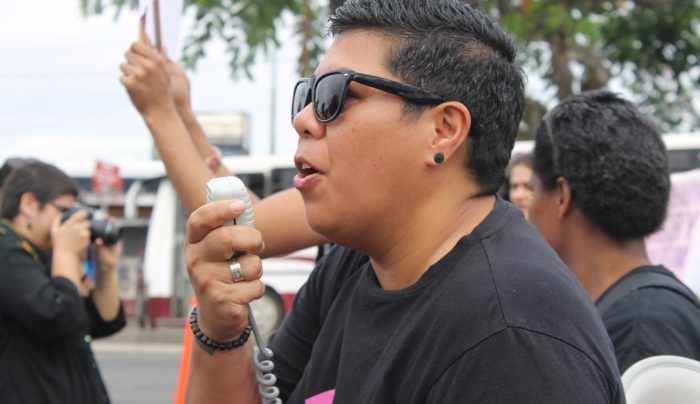 DIVA for Equality is an IWDA coalition partner, and one we're incredibly proud to work with in Fiji. They're a feminist LBT national collective of lesbians, bisexual women, trans-masculine and gender non-conforming people working on issues of human rights and social justice, including gender and sexual, social, economic and ecological justice. DIVA for Equality are life-altering for women who are often forced to the fringes of communities and excluded from many aspects of daily life. They organise programs to support women economically, provide safe spaces where women can come together, and advocate for women's rights on a regional and global scale.
Rainbow Community Kampuchea
In a country where speaking out about human rights is still a risk for any NGO, Rainbow Community Kampuchea, who share an office with IWDA partner United Sisterhood Alliance, brings together LGBTQI members from all 25 provinces in Cambodia, mobilising and empowering its members to advocate for their rights. They've also conducted critical research on the experiences of LGBTQI people in Cambodia, which help better support their members and set their priorities for progress.
Asia-Pacific Transgender Network
In 2009, 15 transgender women from 10 countries in Asia Pacific came together to champion transgender rights, and from this meeting, the Asia-Pacific Transgender Network was born. This amazing network enables 'transgender women and men in the Asia and Pacific region to organise and advocate for the improvement of their health, protection of their legal, social and human rights, and enhancement of their social wellbeing and quality of life'.
Colours Rainbow
In Myanmar, there are still absolutely no legal protections against discrimination for LGBTQI people. Colour Rainbow is trying to address this through information and training sessions, advocacy and lobbying, research projects, and community events. But they're also a fantastic resource for Myanmar language multimedia, producing their own magazine that covers LGBTQI issues in the country.
This IDAHOT Day, we stand diverse people in our country, region and world to call for equality.